Christmas time is for sharing and baking and laughter and more.
I confess that Cooking is not my favorite thing but I thoroughly enjoy baking, especially at Christmas time. I would be just fine if there were no gift giving as we all have way too many things ( stamping supplies are not included in that statement though...LOL ). Somehow the artistic side of me just has to create yummies and decorate cookies to share with others.
The Crew over at the SUO Challenges asked us to show you our LAST MINUTE gifts as we count down the days. I knew just what I wanted to do since I had just received a call about a last minute " can you guys come over on Friday night?" Lucky I had just about finished up my baking + 4 cookie sheets of English toffee and 2 trays of Pretzel Turtles.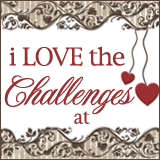 For what ever reason ( tis the season to have NO REASON ) I wanted my tag to have a neutral tone to match the contents, so I went with a Crumb Cake base, Champagne Glimmer paper and Whisper White. Of course I used the Festive Flurry die cuts and ran the white layer through the Polka Dot embossing folder. The Merry Christmas sentiment is from Petite Pairs and die cut using the Itty Bitty Banners die.
After the Gusset Cello Bags where packed I cut about 22" of Cherry Cobbler Tulle and tied a bow around the top of the bag. The Festive Tag was attached to the bag with linen thread to match the overall feel of the color palette . I ended up making 7 treat bags and received BIG smiles and "oh my gosh" from our wonderful friends.
Plus I wanted to share the frosted cookies I made and sent through the mail to my 80 & 90 year old relatives....I'm sure they will enjoy them, it fills my heart with joy!
A VERY MERRY CHRISTMAS to YOU....Pam