The Vintage in me isn't happy to see the TEA SHOPPE set being retired.
The set is so versatile with it's 10 different stamps I've gotta my $$ worth
and did you know it's also available in French.
( FYI, both of my Mom's parents were French, and now my son is familiar with French because of living 9 mos in France.
)
Back to the card......and being sad about this set
Which set are you going to MISS?
Let us know over at the SU ONLY Challenges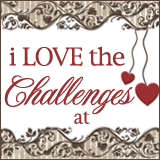 The Colors you will want to Use in this technique card are
Elegant Eggplant, Baja Breeze, Perfect Plum and Island Indigo.
You can Create the multiple colors in the tea cup by cutting a piece of white card stock larger than the tea cup image itself. Sponge three colors of ink (Eggplant, Baja Breeze and Island Indigo) on the white CS in patches, so that each color touches each other.
Now ink up the large teacup with Perfect Plum ink and stamp over the ink patches. Cut out the Tea Cup (tip: punch a circle in the handle first to help with the fussy cutting process), embellish with tiny pearls and a Small Heart punched from Silver Glimmer Paper. I sponged the glimmer paper with Baja Breeze ink.
You will want to attach the Baja Breeze and Island Indigo layers together before running through the Striped Embossing folder.
Cut a White CS panel using the Label Collections Framelits and stamp your images with Elegant Eggplant Ink. Sponge the edges with Perfect Plum ink to create a soft vintage feel.
Make a cute little Tea Bag sentiment with Island Indigo ink and the Small Oval Punch.
Sponge the edges with Perfect Plum ink.
Attach to the back of the tea cup with Island Indigo Bakers Twine and a glue dot.
Add a Vintage Ruffled trim when you place a row of Sticky Strip adhesive below the Tea Cup and scrunch up the Baja Breeze 1/2" Seam Binding as you adhere it down on the adhesive.
Don't miss out on the opportunity to enjoy this set, it's going June 3rd!
Wood # 125545, Clear Mount # 125547
French - Wood # 125934, Clear Mount # 125936
You might also like these TEA SHOPPE examples....
Tea Shoppe on Patterned Paper
Tea Shoppe EASY 7-Panel card
Tea Shoppe and Glimmer Butterfly
Thanks for your visit today!